Serves: 4
Meal: side dish
Tag: vegetarian, seasonal, summer
Main ingredients: asparagus, brown rice, Feta cheese
Preparation time: 25 minutes (2h in total)
Description: The crunchiness of freshly fried asparagus is excellent in salads. Today on the menu is brown rice, asparagus, cherry tomatoes, and Feta cheese salad. A mustard dressing is there for the richness of taste. We recommend the salad as a side dish for barbecue delicacies or as a snack to be taken to work.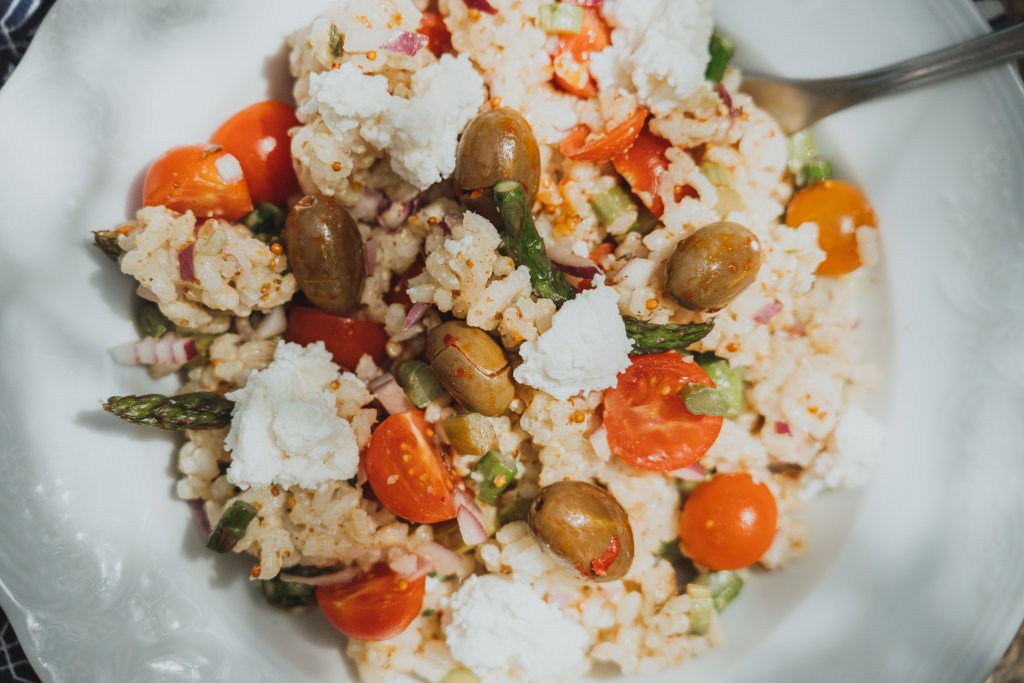 Ingredients:
270 g brown rice
540 g water
1 teaspoon salt
1 tablespoon olive oil
170 g fresh asparagus
Salt and pepper
2 garlic cloves
2 tablespoons mustard
4 tablespoons olive oil
3 tablespoons vinegar or lemon juice
15 olives
½ red onions
20 cherry tomatoes
100 g Feta cheese
Preparation:
Rinse the rice under the tap, drain it, and put it in a pot together with water and 1 teaspoon of salt. Cover and cook following the instructions on the packaging. When the rice is cooked, leave it on the side and let it cool.
Cut the asparagus into 1 cm pieces. Put 1 tablespoon of olive oil in a pan and fry the asparagus in it. Season with salt and pepper to taste. Leave the asparagus on the side to cool.
Use a small food processor or a hand blender to mix the garlic, mustard, olive oil, and vinegar or lemon juice well.
Mix the cooled rice, asparagus, dressing, olives, chopped red onions, and cherry tomatoes in a bowl. Top it with Feta cheese.
The salad can be eaten cooled to room temperature, but it will be even better if we cool it in a refrigerator for around 2 hours. Bon appétit!